Tripawds is a user-supported community. Thank you for your support!
So my mom thought she would be funny and buy me a Snuggie (blanket with arms) for dogs because she knows how much my dad hates the Snuggie for people. So she bought it, put it on me and surprised him. Boy was he surprised and now I have to wear the dorky thing. Here is me sporting my Snuggie. Mom had to modify it for me a little by sewing the right arm shut and added loops on the top so it won't slip down and expose my stump.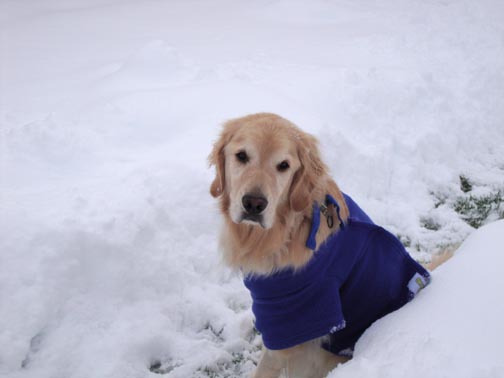 Fortunately, I only have to wear the Snuggie when I go outside in the cold and it's usually under my Ruffwear vest. I look totally cool!  I got to go outside for a short walk today and it was a lot of fun. We had another snow storm and I think we probably got a foot of snow. I still take short walks because I get tired fast and mom doesn't want me to push it. She takes my brother for a long walk first because she knows I am the patient one and when they get home she takes me out. I am so lucky I don't even have to wear a leash most of the time. I like to walk around the park across the street from our house.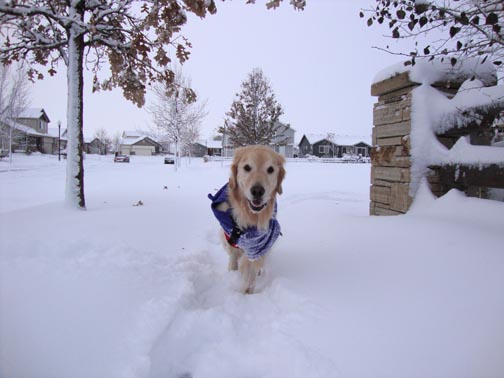 Sometimes mom is very paranoid that I am going to slip and fall on the snow and ice, but I think I have mastered walking across them. I am doing so well that I surprise myself. Mom makes me wear my vest just in case she needs to help me across some rough areas, don't tell her but it does make me feel safer and more confident! I can't wait until tomorrow when I get to explore more snow!