A little about me!
Tripawds is a user-supported community. Thank you for your support!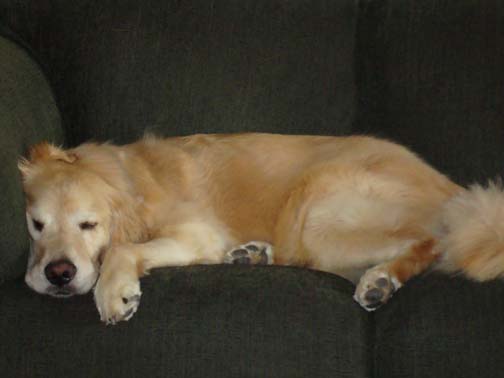 Hi I'm Peyton.  I will be 5 years old this Christmas. This last summer, after some heavy horse play with my kid brother, Dillon, I thought I had just injured my shoulder.  I limped for a while and with rest the pain seemed to go away.  My Mom is very active and loves taking my brother and I on long walks in the morning and when Dad got home we'd get another, shorter walk.  Even with the pain I was in, I insisted on having my two daily walks.
       My parents finally decided it was not normal my pain hadn't receded and took me to my favorite vet.  She took a couple x-rays but didn't see any abnormal fractures or sprains, she was however a little concerned about the density on my sore shoulder.  I had to take a rest, which absolutely drove Mom crazy, and took some anti-inflammatory medicine.  After a couple weeks of this ,my pain was still there.  We then went to a specialist and they took some fancy digital x-rays of my shoulder, with that and finally a biopsy I was diagnosed with Osteosarcoma.
       Luckily my parents researched and learned what would be best for me.  They set up an appointment to have my front right leg amputated to remove the source of the cancer.  I came home from the surgery on September 9th, 2009.  I actually amazed myself.  The next morning I hobbled from Mom and Dad's bedroom to the backdoor to take care of business in the backyard, less than a day out surgery and I was mobile.  Each day I have been more and more active even running in the park for my favorite Chuck-it ball and competing with my brother for our Frisbee.  I've even walked around the block to some of my favorite neighborhood friends.
       We are lucky to live only 2o minutes from the CSU Veterinary Hospital.  I started chemotherapy a couple weeks ago and will go five more times, every three weeks.  The first one was only two weeks after my surgery and I was really tired, but when Dad came to pick me up I pulled the doctor all the way down the hall, I even heard the doctor ask what I was like with four legs…they can't slow me down.